Rod-Mounted Mirror Mount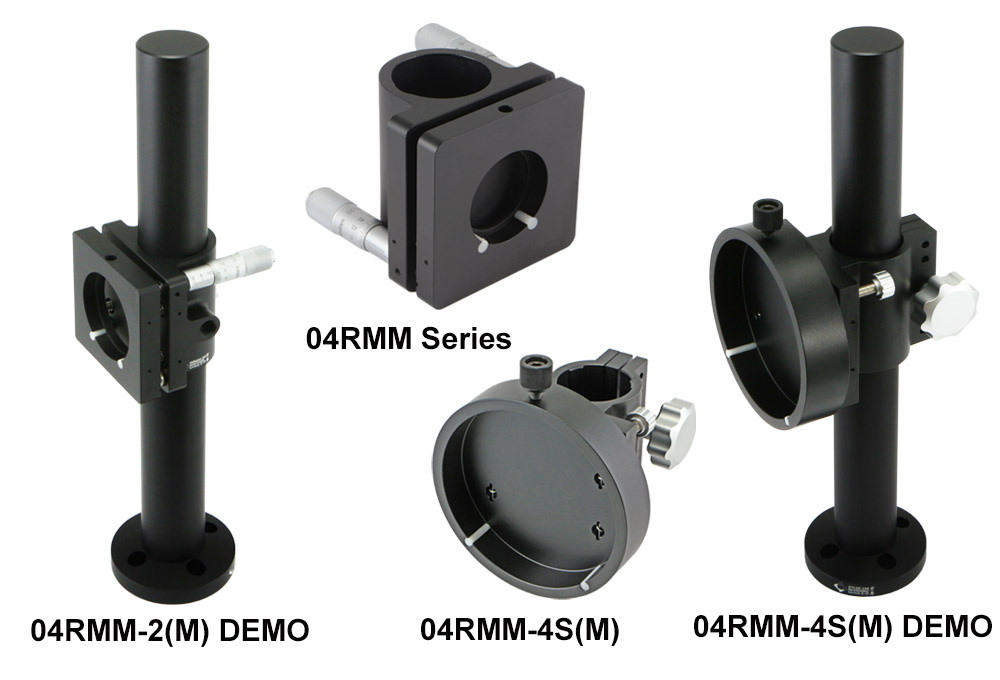 Product name : Rod-Mounted Mirror Mount
Description :
● Metric and English both available.
● Supports mirrors with diameters of 25.4mm, 38.1mm, 50.8mm and 101.6mm (1", 1.5", 2" and 4" ).
● An angular range of ±4° for each direction.
● The mirror mount is attached to a 38.1mm (1.5") mounting rod (sold separately as model 07LSR-1(M) to move height along the rod and tilt/tip adjustment itself.
Specification
Model
 
 
 
 
Common
04RMM-1(M)
04RMM-1.5(M)
04RMM-2(M)
04RMM-4S(M)
Optic Diameter
25.4mm
1"
38.1mm
1.5"
50.8mm
2"
101.6mm
4"
Actuator
Micrometer
Micrometer
Micrometer
Screw
| | Model | Description | Price(USD) | Quantity |
| --- | --- | --- | --- | --- |
| 0 | 04RMM-1(M) | Rod-Mounted Mirror Mount, Ф25.4mm | $217 | |
| 1 | 04RMM-1.5(M) | Rod-Mounted Mirror Mount, Ф38.1mm | $220 | |
| 2 | 04RMM-2(M) | Rod-Mounted Mirror Mount, Ф50.8mm | $222.5 | |
| 3 | 04RMM-4S(M) | Rod-Mounted Mirror Mount, Ф101.6mm | $252 | |