Monochromators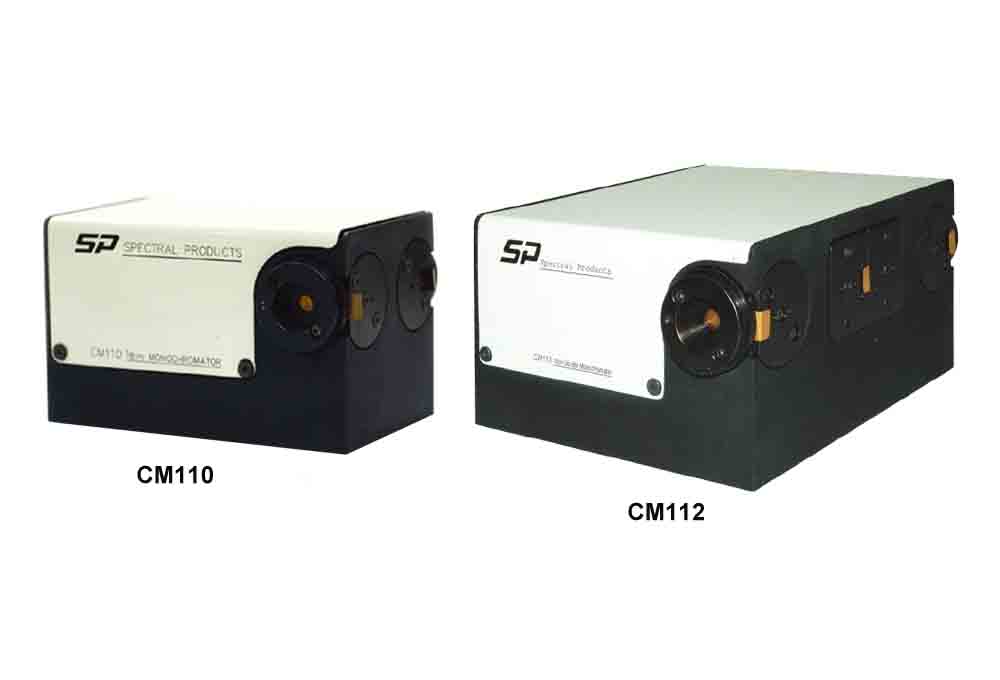 Product name : Monochromators
Description :
Single piece base construction, direct grating drive, and anti-backlash gearing ensure this unit is rugged and stable enough for demanding applications. Loaded with SP Optics and able to hold two high quality gratings, the CM110 is ideal for spectrometry in the UV to IR spectra. Each instrument is calibrated and certified prior to delivery and comes with easy-to-use software.

● Compact size - Only 5-1/4"x3-1/4"x3-1/4"
● Connects to any computer via standard RS232 interface.
● Double grating turret allows for a broad spectral range coverage.
● May be factory configured as a monochromator or a spectrograph.
● Scans in both directions and in nanometers, Ångstroms, microns, wave-numbers, or eV.
● Change slits on the fly.
● Monochromator may be factory configured for right angle or straight through beam path.
● Suitable for fluorescence, radiometry, process control, colorimetry, tunable filtering, Raman spectroscopy, among others.
Specification
CM Series Standard Ruled Gratings, Size = 30 x 30 mm
| Part # | Ruling (G/mm) | Peak (nm) | Range(nm)@ > 30%T | Peak %T |
| --- | --- | --- | --- | --- |
| AG2400-00240-303 | 2400 | 240 | 180 – 680 | 70 |
| AG1200-00200-303 | 1200 | 200 | 180 – 450 | 65 |
| AG1200-00300-303 | 1200 | 300 | 200 – 750 | 72 |
| AG1200-00500-303 | 1200 | 500 | 330 – 1000 | 83 |
| AG1200-00600-303 | 1200 | 600 | 400 – 1500 | 80 |
| AG1200-00750-303 | 1200 | 750 | 480 – 1500 | 85 |
| AG0600-00500-303 | 600 | 500 | 350 – 1300 | 80 |
| AG0600-01200-303 | 600 | 1200 | 800 – 3000 | 85 |
| AG0300-00500-303 | 300 | 500 | 310 – 1100 | 80 |
| AG0300-02500-303 | 300 | 2500 | 1500 – 6000 | 88 |
| AG0150-00500-303 | 150 | 500 | 320 – 980 | 72 |
| AG0150-04000-303 | 150 | 4000 | 2500 – 9000 | 93 |
| AG0075-01700-303 | 75 | 1700 | 1100 – 2800 | 85 |
| AG0075-08000-303 | 75 | 8000 | 5000 – 15000 | 82 |
| AG0045-01750-303 | 45 | 1750 | 1100 – 3000 | 78 |
CM Series Options and Accessories
DK1201
AB200
IR112SP
Hand-held control module,
2 line x 20 character LCD display.
Allows local operation of
CM110/112 monochromators and
CMSP110/112 spectrographs.
Single filter carrier that mounts directly between CM unit and accessories.
For use with CMSP112. Infrared(gold) coatings on CMSP112 mirrors. Enhances transmission by up to 80% between 600 and 1100 nm.
CMGPIB
IR110
DK12AT
IEEE-488/GPIB option for parallel interface operation of CM110/112 monochromators and AB300 Series automatic filter wheels.
For use with CM110. Infrared(gold) coatings on CM110 mirrors. Enhances transmission by up to 40% between 600 and 1100 nm. Not suitable for work below 600nm.
RS232 Cable for AT style computer
CMGPIB- 220V (220Vac input)
IR110SP
DK12PS
IEEE-488/GPIB option for parallel interface operation of CM110/112 monochromators and AB300 Series automatic filter wheels.
For use with CMSP110. Infrared(gold) coatings on CMSP110 mirrors. Enhances transmission by up to 40% between 600 and 1100 nm. Not suitable for work below 600nm.
RS232 Cable for PS2 style computer
CMSP-TO-CM
IR112
DK12MA
Attachment to allow CMSP Spectrograph to operate as a monochrometor.
For use with CM112. Infrared(gold) coatings on CM112 mirrors. Enhances transmission by up to 80% between 600 and 1100 nm.
RS232 Cable for MAC style computer
Special Slit Sizes
 
 
DKFS010 Pair, 10μm slits
DKFS020 Pair, 20μm slits
DKFS025 Pair, 25μm slits
DKFS050 Pair, 50μm slits
| | Model | Description | Price(USD) | Quantity |
| --- | --- | --- | --- | --- |
| 0 | CM110 | Compact 1/8 Meter Monochromator | - | |
| 1 | CM112 | Compact 1/8 Meter Double Monochromator | - | |